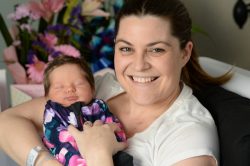 Angliss Hospital in Upper Ferntree Gully has welcomed into the world its 100,000th baby, with newborn girl Taylor, of Chirnside Park, delivered at 10.25am on Monday 31 July.
Taylor's mother, Elise, said she was thrilled to share the hospital's excitement at such a significant milestone.
Taylor is Elise's third girl, with all being delivered at the Angliss Hospital.
With about 2200 births per year, the hospital is close to the hearts of many in the community.
Angliss Hospital site director, Paul Leyden, said it was an exciting time for staff, patients and the broader community.
"It is a huge milestone, not only for the maternity staff, but for those involved in the care of women throughout their pregnancy, birth and post-natal care."
Staff from all areas of the hospital's maternity service, theatre, medical imaging, pathology and emergency department have all been involved in the countdown to the milestone.
They've been aiming to highlight the collaboration between the departments to provide safe, high-quality care for mothers and babies.
Program Director for Women and Children Philippa Blencowe said there was a lot of excitement.
"Many of our staff were born here or had their children here," she said.
"Some staff have also delivered babies of the babies they have delivered many years ago.
"Patients often share stories of generations of loved ones being born at the hospital; they really do love the continuity of care we provide and are excited to be part of this fantastic milestone."
Eastern Health's Director of Obstetrics, A/Prof Chris Georgiou, has been instrumental in the lead-up to the milestone.
"We would like to thank the parents and families that have entrusted us to look after their pregnancies and births," he said.
"We endeavour to provide great care to our patients and the next 100,000 births."
The Angliss Hospital opened in 1939 as a 10-bed bush nursing hospital with one doctor and two midwives.
In 2017, their maternity services included a delivery suite, postnatal unit, antenatal clinic, foetal monitoring assessment clinic, special care nursery and paediatric services.