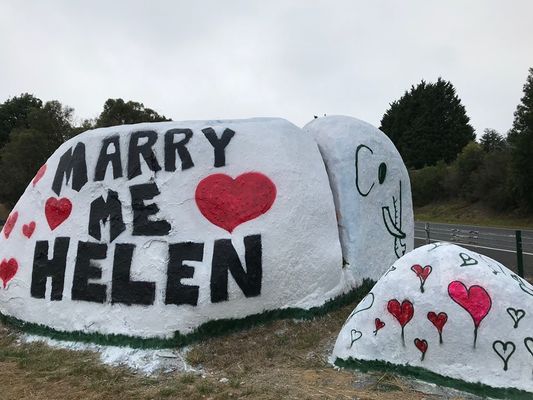 By Derek Schlennstedt
Friends, fellow human beings, I am here to tell you that everything is good and nice in this brightly-lit world because following an online search for the mysterious Helen we can now bring you the answer you have all been yearning for.
The sun is shining, the birds are singing, and Helen Cooper from Cranbourne said YES, when on Valentine's Day her fiancé Chris Scholten proposed by painting a 'Marry Me Helen' proposal onto Elephant Rock.
Like any wholesome fairy tale, Helen said it was love at first sight for her and Chris, and that she had no idea about the proposal.
"My fiancé got a painter to paint it for us and then after dinner he said he wanted to take me and show me something."
"We went up along Beaconsfield-Emerald Road and came around the bend and when I saw it I was in complete shock and utterly speechless."
"It was beautiful … the sun was setting and there was no wind, and it was the perfect light."
"We haven't been going out for long but it's been love at first sight."
Ms Cooper said she was surprised to hear that the message was still there, and said she would be painting on a big 'Yes' as soon as possible so that everyone can know the good news.
"I can't believe everyone's been so interested … it's wonderful."
"I'll definitely go and get some paint and paint the answer this evening," she said enthusiastically.