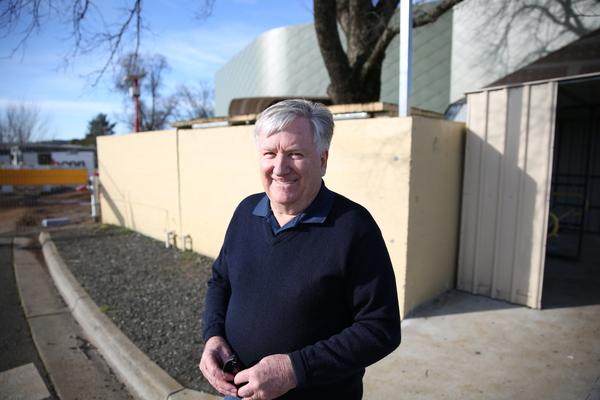 By Derek Schlennstedt
The Worrell reserve toilets are set to be removed as part of construction on the Emerald Hub.
Mr Barry Eadie, a resident of 40 years, said he was concerned that once the toilets were gone, there would be no public amenities available for residents to use.
"It is only in recent times I became aware our little toilet block was not in the plan for the reserve," Mr Eadie said.
"There are toilets in a couple of cafes over the road, but I am sure they would prefer the public did not use them."
"The new pavilion at the oval is said to have a toilet in its plan, but if it is like the old pavilion it will be only open when an event is taking place."
"There is a toilet in the Library but it closes at 2.30pm on Saturday and reopens at 9am on Monday. They are still working out the times for the Hub toilet; the last times I heard were 6am until 9pm daily."
"As a 40 year resident of Emerald, I believe it would be a backward step to remove the little toilet that has been a 24 hour toilet, 7 days a week, the whole time we have lived here."
It's understood that the new amenities which are incorporated in the Hill's Hub project include; two universally accessible unisex toilets, three male and three female toilets available for public use.
According to Cardinia Shire Council's General Manager Infrastructure and Environment, Peter Benazic, these Public Amenities will initially be set to operate during specific times, which are yet to be confirmed.
"It is planned that the public toilet facilities at Worrell Recreation Reserve will be removed as part of the extensive redevelopment works that are currently underway to revitalise and extend the services and amenities available at this facility," he said.
"Initially, these public amenities will operate during specific times, which are yet to be confirmed, but are expected to be in line with the operating hours of the Emerald Community Hub and Emerald Library."
"There will be electronic access doors leading to the toilets and security monitoring for safe use of these facilities without affecting user privacy. The electronic access will inform and guide Council in understanding the use and availability of the public toilet."
"Council will also be installing wayfinding signage to ensure all reserve users and visitors to the area know and can easily identify the location of the new public amenities".