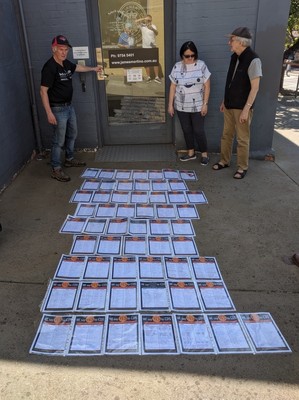 At 10am on December 18, a group of concerned Yarra Ranges residents gathered at James Merlino's Belgrave office to present him with a 50-page petition of people in support of a Container Deposit System (CDS) to help fix our recycling and litter problems.
Peter Cook from the Emerald-based Dandenong Ranges Renewable Energy Association was one of these concerned residents and said there were four key points why a CDS would assist in reducing litter problem.
"CDS has the key ingredient to success which is broad community support," he said.
"The fourth bin option for glass by itself will not fix the problems with our recycling system but will create other logistical problems."
"CDS is the only comprehensive recycling and litter solution on the table because it addresses away from home consumption and it addresses glass, plastic bottles and cans, and CDS will be a popular reform."
Container deposit schemes work by adding a small extra deposit on top of the price of a beverage – such as those in plastic and glass bottles and aluminium cans – which is refunded to the consumer when they return the empty drink container for recycling.
Also known as bottle deposit schemes, deposit refund/return systems (DRS) or bottle bills, they are typically established through legislation passed by state or national governments.
Mr Cook sad this was an issue that required an informed decision early in 2020.
"As our elected representative, we would like James Merlino to represent the views of the people on the petition to the Premier Daniel Andrews, the Environment Minister Lily D' Ambrosio and the Treasurer Tim Pallas.