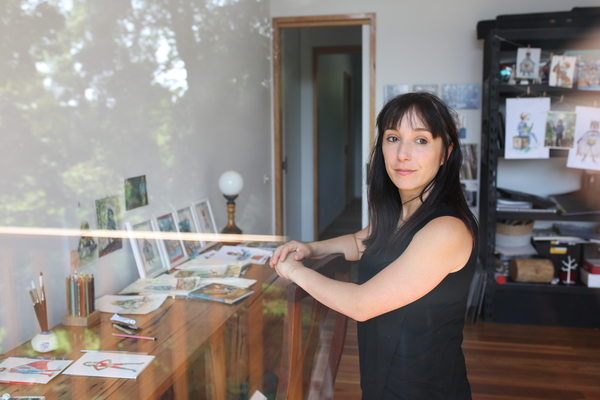 By Derek Schlennstedt
To enter children's illustrator, and writer Ilana Payes world is to fall backwards through time to more innocent days.
You see, Ilana's world is one inhabited by bright characters with appealing adventures, fierce outfits and warm, loveable animals – a world made from a child's imagination.
As we chat, sitting on children's stools on her balcony, overlooking the emerald green Sherbrooke forest, Ilana pays attention to the muddled scene of children's toys lying around the balcony.
With three boys, there is an endless supply of fantastic stories. Stories, that translate onto Ilana's page, and, as she shows me her illustrations, I realise how much I miss flicking through a picture book. As an adult that escapism has long since fled me.
Her illustrations are bold, brilliant and happy… and it's easy to spot a few familiar faces.
"In two weeks my three-year-old, Ethan, he'll have his 10th operation, because he has glaucoma," she tells me. "He is intelligent, very difficult and he wears glasses, so I wanted to make a story for him so he feels empowered for wearing glasses … trying to celebrate his difference, and yes it's just glasses, but he hates wearing them."
"I've done all these drawings of Ethan with aviator goggles, or, for example; he loves he's little fox toys, so I've made paintings of him in fox masks being ferocious in the forest."
"It's kind of a broad way to celebrate Ethan's gorgeous big eyes and his glasses and tempter tantrums," Ilana jokes.
As is perhaps befitting of a children's artist and writer, Ilana is warm, smiley and keenly clever.
Her studio, unlike the balcony is scrupulously spotless, and photos of her family cling to the walls, next to their watercolour doppelgangers.
In amongst those illustrations are storylines and narratives, which she said she draws on for inspiration.
"Usually it starts with a picture, so I do a drawing which triggers another picture, which leads to research and then a story."
"The story comes in one go and then its months and months of re-writing, but it's usually just one burst of inspiration to write the story."
While the writing is drawn from Ilana's imagination, the drawings often come from the adventures of her three boys.
"We have the most beautiful wonderland here and they run around causing havoc."
"The last drawing I did, the boys were pirates. Ethan, he had to have an eye operation and had to wear a patch, so we got him a pirate hat to match."
"It was so funny. He took the Mixmaster hook that I think churns bread and was saying 'I'm captain hook', and then my other boy had the fox mask on and they took the wooden spoon and the potato masher and they were in the washing basket ,rowing on the floor."
"Kids are amazing, and I draw what I love most."
In May, Ilana Payes will open up her studio as part of the Dandenong Ranges Open Studios weekend.
So, if you'd like to see the unique variety of illustrations that hang on Ilana's studio walls, or perhaps find out more about open studios and the number of incredible and unique artists sharing their work spaces, then visit https://www.openstudios.org.au/