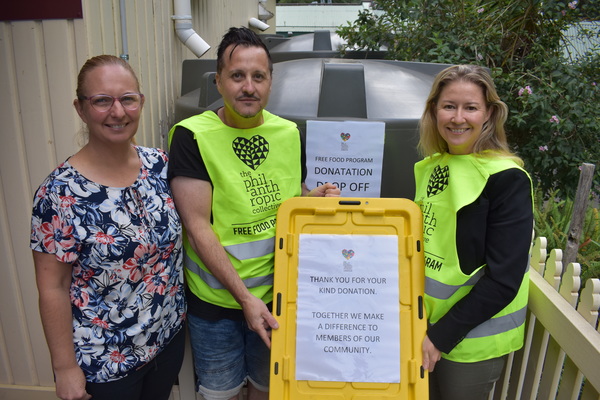 By Romy Stephens
A Dandenong Ranges charity is calling on the community to support its Free Food Program after facing challenges to continue with recent panic buying in supermarkets.
The Philanthropic Collective's Free Food Program was established four years ago and has since provided fresh food to school students, families and community members through free care boxes.
But the charity has been struggling to fill these care boxes as recent panic buying due to the coronavirus has seen supermarket shelves stripped of goods.
Founding member Andrew Fillip-Gautier said The Philanthropic Collective is now asking community members to donate non-perishable food items that can go towards the care boxes.
"The primary purpose is to seek non-perishable donations from the community purely because our regular sources of produce have dried up because of the panic buying," he said.
"We are now finding it extremely difficult to fill boxes for families in need, single mums, seniors in the community because there simply isn't enough produce to go around."
Andrew and Fabian Fillip-Gautier founded the Free Food Project at Sherbrooke Community School in 2016 after noticing students presenting at school in the morning who clearly had not eaten breakfast.
The program now provides access to fresh fruit and produce to about 1000 school children, families and senior citizens across the ridge each week.
The Philanthropic Collective member Belinda Young said helping others is something the community can take control over during tough times.
"With everything we can't control in this situation being able to help someone else is something we do have a control in doing," she said.
"It might actually bring a little bit of happiness to yourself, it's something that makes both people feel happy."
She added that the initiative is not intended to add to panic buying.
"We don't want to contribute to the panic buying, we certainly don't want people to buy more than what they need just to donate to us," she said.
"But if they feel that they have something that's in excess already in their stores then please consider."
Mr Fillip-Gautier said "it is in the moment of turmoil that a decisive opportunity is given."
"The opportunity is in the choice that we make in response to the turmoil we perceive," he said.
"Be kind to one another, think of those who are less fortunate than you and act with love in your heart."
Donations of non-perishables can be left in a donation box at Sassafras Primary School between 10am-4pm, Monday-Friday.