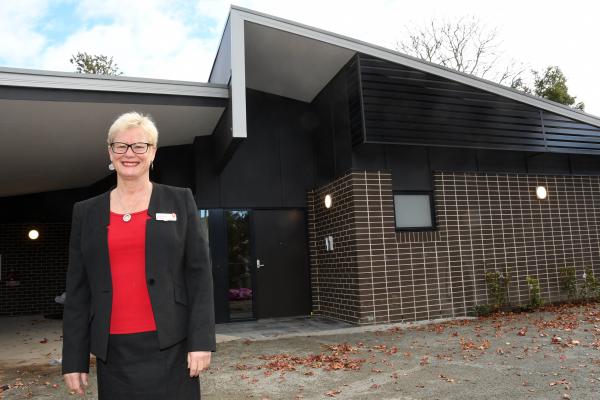 By Romy Stephens
A new specialist accommodation building in Mount Evelyn is expected to change the way future housing models are delivered for people with disabilities.
The Snowball Avenue building was launched by Housing Minister Richard Wynne on 17 June.
It provides five fully accessible and independent units that will be staffed 24 hours a day.
The building was developed through a partnership between non-for-profit organisations Anchor and Melba Support Services as well as Active Housing and Hooke Architecture.
Melba Support Services CEO Glenn Foard said the building would not only help five residents live better lives, but also inspire change within the disability accommodation model.
"As confident as I am that it will lead to great lives for those five individuals, I'm equally confident it can actually change the way that we think about providing housing and support to people with a disability," he said.
"It's actually providing people with options and choices that haven't existed previously, to live in your own home with the necessary 24/7 support as required.
"It's actually going to change that way that future housing models are delivered for people with disabilities and that's why it's really exciting to be part of."
The building's architect, Geoff Hooke, said this was one of the finest disability accommodation buildings his company had designed.
"This is groundbreaking from our perspective because it's five independent living units all under one roof with a staff sleepover 24/7," he said.
"Every unit has its own kitchen, this kitchen is a fully equipped kitchen. They have their own washing machines and drying machines so the entire house is built to the highest standards.
"It's designed with sustainability in mind, they are very low energy running houses.
"The aim really is to create a space where people can grow and live from the point of view of independence."
Anchor CEO Heidi Tucker said it was great to see the Mount Evelyn project finally finished after extensive planning.
"We had a vision that we wanted to provide five apartments under one roof," she said.
"We wanted it to be well-built and we wanted to make the very best of the beautiful site that we have here.
"I hope that in the future we might be able to do something similar in another area with our wonderful partners."
Meanwhile Mr Wynne praised the efforts of Anchor, Melba Support Services and Active Housing.
"The housing model is a great example of how the market is changing to respond directly to the changing needs of people. Residents here will have the support, privacy and spaces they need to live a life that they value," he said.
"The design of the new homes reflects the rights of people with a disability to have homes that respond to their individual needs and preferences.
"It allows for privacy and dignity which of course is incredibly important for people's empowerment."
Active Housing will be the Specialist Disability Accommodation provider and tenancy manager for the five people that live at the Snowball Avenue building.
Melba Support Services will be the service provider and staff the premises 24 hours a day, seven days a week, while Anchor will remain as the landlord.