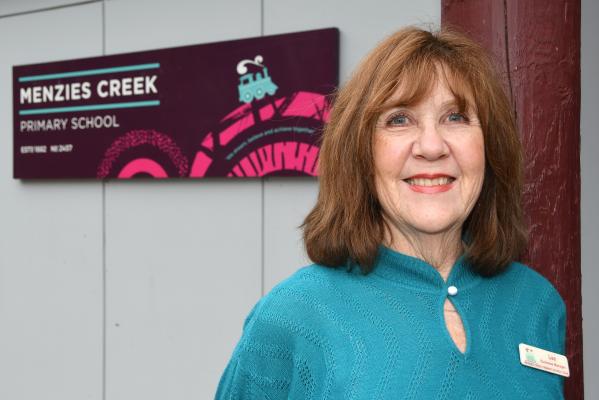 By Romy Stephens
Menzies Creek Primary School has bid farewell to one of its finest, with the school's business manager of two decades retiring on 26 June.
Lee Jenkins has been a vital part of the primary school's community for the past 20 years.
She began when the school was much smaller, hosting 145 students.
"The buildings weren't as extensive and there was less staff. This school has been able to grow, but still retain a small community feel," she said.
"There were no after school care programs or kindergartens. We did have a canteen, which was run by volunteers.
"Over the years I have seen the buildings and grounds improving with caring maintenance, mostly achieved by our popular working bees which always combined to create family community days at our school."
Ms Jenkins' education journey started when she decided on a career change, after having worked from home as her kids went through high school.
With a background in finance, she began volunteering at the local Kallista Primary School. Within a month, she was offered paid work.
Ms Jenkins got her first job as a business manager at Chandler Primary School, despite having no experience in business management, before moving to Eumemmerring Secondary College.
Once a job opening came up at Menzies Creek, she said it was a perfect opportunity to work closer to her home in The Patch.
And since starting at the school, she has never looked back.
"I have always felt extremely proud of our school staff, their passion for going above and beyond for their students," Ms Jenkins said.
"I was also quite proud of being called 'the face of the school', which was over my first 15 years at Menzies when I ran admin and reception on my own.
"I will miss seeing and interacting with the children of all ages and all the wonderful parents, especially the mums who have shared their lives with me – be it a happy event or a sad one."
It took about 12 months for Ms Jenkins to make the tough decision to retire.
She said she hoped to now spend more time with her three children and seven grandchildren, and also do some travelling around Australia when the Covid-19 pandemic calmed down.
Ms Jenkins may now be looking forward to retirement, but said she would never forget her wonderful memories from Menzies Creek Primary.
"It is my second family. I have shared new babies coming into our school community, then commencing school, graduating from Grade 6 and returning as young adults to visit our school," she said.
"Sharing happy times and tragedies of this community has added greatly to my life.
"Not to mention staff weddings and sharing in the exciting times of their babies being born.
"I have been in a position to never be taken for granted and have been made to feel a valuable member of this school community."