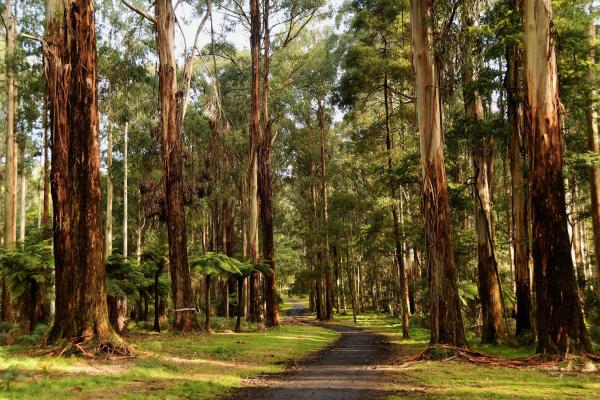 By Romy Stephens
Community members are invited to share their feedback on the final draft master plan for RidgeWalk.
RidgeWalk is a large-scale art experience across 39km of walking track. It will celebrate the natural and cultural histories of the Dandenong Ranges, from First Nations people to contemporary local communities.
The project will deliver 14km of new and improved tracks, architectural nodes, permanent sculptures, land art and heritage interpretation, as well as a program of temporary exhibitions and performances.
One of the major changes in the final draft master plan is an updated trail route at Wattle Track in Sherbrooke.
This will include the re-opening of Wattle Track as part of RidgeWalk, adding more forest walks without building new trails.
Yarra Ranges Council will work with Parks Victoria and local environment groups as this part of the project progresses.
Other route alignment changes will take place on the connection between Sassafras-Olinda and the connection to Grants Picnic Ground and Kallista.
In 2019, Council put its initial draft master plan out for community feedback.
Following the response from residents, local environmental groups, artists and other stakeholders, the council has made changes.
Chandler Ward Councillor Tony Stevenson said this latest draft master plan had already been "vastly improved" due to previous community feedback.
"This idea has been out there for a little while, we've engaged with the community, we've had over 1000 people provide their feedback on this," he said.
"Not only is it the general public that have been engaged but there has been specific engagement with traditional owner groups across the Dandenongs… I'm delighted that they are going on this journey with us as well.
"It is an exciting development, it will be something that will be incredibly valuable not only for local residents but it will attract tourists and provide extra infrastructure for tourists in the Dandenongs."
RidgeWalk is fully funded to $9.8 million dollars, with contributions from The Australian Government, Victoria's Growing Suburbs Fund and Yarra Ranges Council.
To find out more and provide feedback, visit www.yarraranges.vic.gov.au/Council/Engage-Yarra-Ranges.
Opportunities for feedback will close at midnight on 27 August.