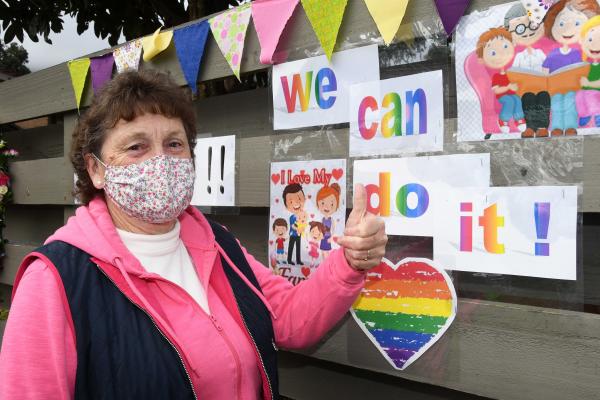 By Romy Stephens
A Ferntree Gully couple has been spreading positive messages during Covid-19 by putting colourful signs on their fence.
Since the Covid-19 pandemic began, Ann and Alan Bailey have been decorating their fence to help bring a smile to the faces of locals.
"I just wanted to make everybody happy…We have plenty of room to put things up to make a statement and make everyone happy," Ann said.
During the early stages of the pandemic, the couple joined in on the teddy bear initiative, which saw people put teddy bears in their windows and out the front of their house.
What started as a bit of fun, soon became an ongoing tradition.
"I started putting teddy bears on my front gate and then we had Easter and I put some things out for Easter on the fence," Ann said.
"For Anzac Day I was part of the 5000 poppy project so I made a garland of poppies.
"Then it was mothers day… I rummaged through my cupboard and found all these artificial flowers and I made a huge heart."
Ann and Alan, with the help of their son who is a graphic designer, have also been changing their decorations based on the different stages of lockdown.
"When we were allowed to go walking and play tennis I put photos up of a golf course and fishing and tennis," Ann said.
"Then we had Stage 3 and I thought I have to put things back up there.
"When they said we might be going to Stage 4, I went and put a big question mark and an exclamation mark next to the three."
The latest decorations on the fence feature a love heart with 'happy days' written in the middle of it, signs that read 'oh no!! 6 more weeks' and 'we can do it' as well as song lyrics.
Ann said that despite running low on printer ink and laminating sheets, she was "loving" bringing a smile to people's face, particularly to those that were doing it tough.
"People have just said that it's really lovely to see it as they walk around the corner," Ann said."I just feel sad for the oldies that have been doing the right thing and people that are on their own, I really feel for them."
"I have teenage grandkids and I'm feeling for them because one minute they are able to catch up with their mates and then they can't.
Ann said she encouraged people to "hang in there" and keep doing the right thing.
"Everyone just look after each other, that was my big thing to start with…Look after each other and look out for each other."