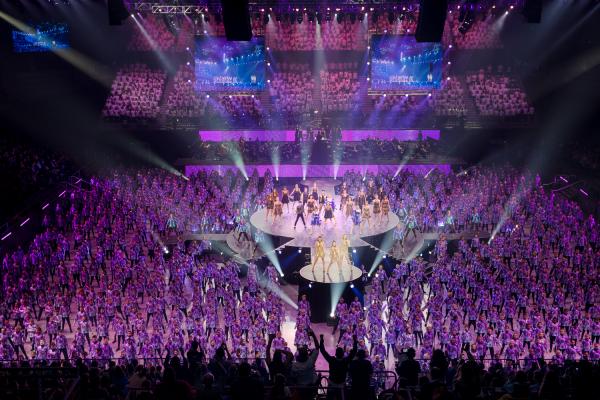 By Romy Stephens
Students from numerous schools throughout the Yarra Ranges will take part in this year's new-look Victorian State Schools Spectacular.
This year's show will look vastly different from previous years due to Covid-19, with the production pivoting into a virtual TV format – rather than the usual live event.
More than 2000 students remained in the program for its 25th year.
Instead of practicing and performing at John Cain Arena, makeshift film studios were set up in the homes of main cast members across the state.
Local participants included Victorian State Schools Choir members Stacey Marriott (Grade 5, Mount Evelyn Primary School) and Elle de Weijer (Year 7, Monbulk College).
Principal vocalist Summer Bush (Grade 5, Ferny Creek Primary School) and speciality act performer Cierra Shook (Grade 5, Ferntree Gully North Primary School) were also involved.
Summer said adapting to the virtual format had been challenging, yet rewarding.
"It's definitely been strange. We've had to do rehearsals over Zoom and we've had to do a lot of practice by ourselves which was a little hard," she said.
"The Zoom rehearsals were really interesting because we couldn't all sing together.
"When filming the video, I had so much fun. I had a whole panel of people on Zoom watching me and giving directions as I performed my songs. My mum loved being the camera operator. It was an amazing experience."
Despite numerous challenges faced, such as recording her vocals inside a wardrobe to block out background noise, Summer said she had thoroughly enjoyed the experience.
"Considering it's my first year, I've been super excited for this and still getting to take part in Spectacular has been really great," she said.
"I really appreciate the hard work that all the Spectacular team has put in to find a way to keep the show going despite the odds. It's amazing that despite lockdown, we've still been able to perform."
Other local schools involved in the Spectacular included Tecoma Primary School, Upwey South Primary School, Macclesfield Primary School, Selby Primary School and The Basin Primary School.
This year's Spectacular features performances reflecting themes of resilience, rising up and the art of connection.
Victorian State Schools Spectacular students have dedicated countless hours across many months, involving approximately 2000 Zoom sessions since April preparing for the show.
"Spectaculars come in many shapes and sizes. By moving the production into the virtual and made-for-TV space, the Spectacular ventures into a new arena," creative director Neil Gladwin said.
"Great songs of resilience from Emilie Sande, Aloe Blac, Stevie Wonder, Goanna and John Farnham carry the show.
"Featured artists include the Victorian State Schools Pasifika Choir, the VSS Mass Choir and the Victorian State Schools Choir – now all performing as virtual choirs, headed up by the stunning talents of the principal vocalists, dancers and orchestra.
"This Spectacular delights in the expression of hope, light and life seen in the eyes of all of its young participants."
Participating primary and secondary school students have also had the opportunity to work with industry professionals including creative director Neill Gladwin, musical director Chong Lim AM, dance director Deon Nuku, costume designer Isaac Lummis and creative producer Simon Patterson.
The Victorian State Schools Spectacular will be broadcast by the Seven Network later this year.
To find out more, visit www.education.vic.gov.au/spectacular or Victorian State Schools Spectacular on Facebook.