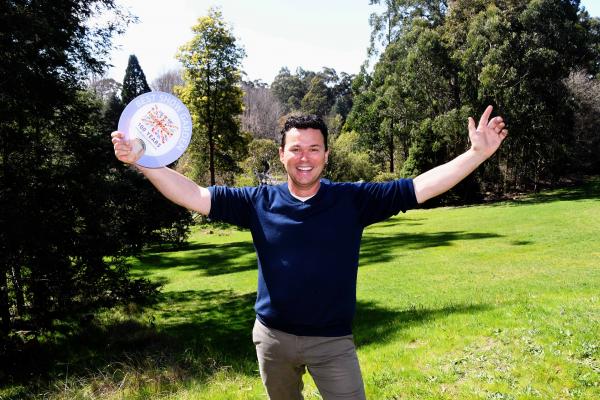 By Taylah Eastwell
When Phillip Johnson received a personal call from Acting Premier James Merlino last week, he hung up the phone "over the moon".
The Olinda landscape designer received news that the State Government would contribute the final $2.8 million needed to allow his plans to construct a sustainable Australian garden at Olinda's former golf course to go ahead.
"It was a dream come true. I have been trying to make this happen for nine years now," Mr Johnson said.
The garden will replicate the design that won Mr Johnson and his collaborator Wes Fleming the prestigious title of Best in Show at London's Chelsea Flower Show in 2013.
"My whole goal was to bring it back to Victoria and what more of an appropriate location to be in than Olinda because this is where my inspiration came from. To bring that full cycle back home to the Dandenong Ranges and Yarra Valley is a great and very important thing to me," he said.
"The garden is 20 times the area of the original garden I designed in London. The Dandenongs are renowned for incredible national parks and gardens but there is a lot of exotic plants, like rhododendrons. I wanted to design something that inspires people how important our vegetation from our country is, so they can look and think, 'wow, I can grow this'," Mr Johnson said.
Mr Johnson said the garden will include a bushfire prevention system that will provide "over 1 million litres of water for access by the CFA".
"Part of the design strategy was to make sure a helicopter could suck out water from a certain point," he said.
The garden is set to feature over 426 Australian plants, with many rare and endangered plants also on the list to be planted, including the Wollemi Pine and slender tree ferns.
"This garden has got a big connection to so many people around the world and I hope to inspire people to do the best environmental practice. Learning things about this garden will inspire people as to how they can build their own garden to support biodiversity with plants, which is really energizing," he said.
The garden will be powered by solar power, while water will be collected off the rooftop of a Parks Victoria building.
"I've partnered with local tafes and education providers to allow students to be a part of the build. They will be researching and learning about maintenance, horticulture and sustainable design," Mr Johnson said.
The $2.8 million in funding is in addition to $1 million the state had already given to the project, with philanthropists raising the remaining $340,000 towards Mr Johnson's vision.
Monbulk MP James Merlino said "the construction of a permanent garden will be a massive drawcard for the Dandenong Ranges and will attract visitors from around the country and the globe".
"This was such a monumental achievement – the first and only Australian garden exhibit to win the Gold Medal and Best in Show at the prestigious Royal Horticultural Society Chelsea Flower Show," Mr Merlino said.
Mr Johnson said Parks Victoria are putting methods in place to control visitation numbers to make the visit a "special experience" for tourists and locals alike.
"I wanted something that people can visit not just at cherry blossom time, its about bringing people here but spreading it around throughout the year," he said.
The garden will also be viewable online through a digital platform and is currently going through the planning stages with Yarra Ranges Council.
"We are growing plants as we speak, sourcing materials, all the components are happening. We plan to start implementation at the end of this year," Mr Johnson said.