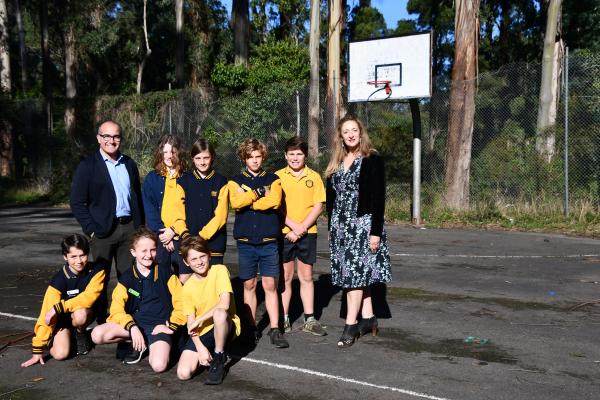 By Taylah Eastwell
An exciting upgrade to Kallista Primary School's basketball area is now in its second stage, with an architect recently appointed to design the new facilities.
Monbulk MP and Minister for Education James Merlino visited the school on Friday 20 May where he announced that Spaces Pty Ltd would design the works which will see the basketball area completely refurbished with new surfaces and a cover.
The state government have provided $496,125 to go towards the project from the Minor Capital Works fund in hopes it will improve learning environments as well as the character and condition of the school.
Kallista Primary School principal Christine Finighan said the space will include a "beautiful, huge court space".
"We are going to have a proper waterproof cover put over so it will be a great area for children to play as well as an all-weather area," Ms Finighan said.
"We will have two new fully refurbished basketball courts with proper turf which will be beautiful for kids to run and play on, and we are also getting a handball court. It's going to be a fantastic recreation asset.
"It will also allow us to have community movies and Christmas concerts down there so the Kallista community can also use it. The Kallista Comets, our community basketball team will be able to use the courts for training and people from the community will be able to use it on the weekends," she said.
Mr Merlino said "every student should have a great school, no matter where they live".
"We're making sure that our schools have the best facilities, our classrooms have the best teachers and that every child is given every chance to succeed," he said.