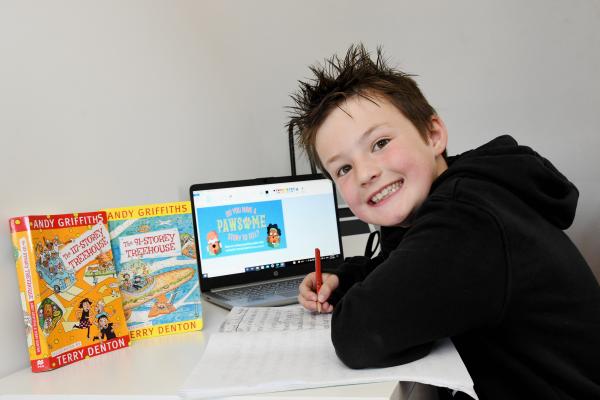 By Mikayla van Loon
Not many children know at his age what they want to do in the future but for Cruze Marsh from Boronia, becoming a writer seems like a pretty good path for him to take.
As the winner of RSPCA Victoria's Pawsome Stories award for the Grade 3 and 4 creative writing category, Cruze's passion for writing has only grown.
His award winning story told the tale of the friendship between dogs and cats
Having written the story for school, Cruze said he was encouraged by his teachers to submit it for the competition.
Cruze's mum Elise said she was extremely proud and it did come as quite a shock when his name was called out of 345 people who submitted stories.
"We didn't expect he would win. It was a big surprise," she said.
"He was just happy to be a finalist and he was jumping around, he's still jumping around from excitement."
Over 200 primary school students gathered online for the award ceremony on Thursday 14 October.
"It was super exciting and it was even more exciting because it was one of my favourite writers who announced the award," Cruze said.
Andy Griffiths, author of the award winning and very popular children's Treehouse book series, presented the award to Cruze virtually.
Alongside Andy the judging panel was made up of fellow author Cameron Macintosh and RSPCA CEO Dr Liz Walker.
"The best part was meeting the judges, Andy Griffiths and Cam Macintosh, and Dr Liz Walker online," Cruze said.
"We got to ask questions about what it would be like if we were to become an author and what it would be like to protect and look after animals."
Pawsome Stories invites Victorian children in grades three to six to submit their work in either a creative or persuasive category.
This year's theme for the creative category was focusing on rescuing animals, while the persuasive category focused on changing one thing in the world to improve animals' lives.
Andy Griffiths said he was incredibly impressed with the calibre of the written work he reviewed.
"I loved reading all of the stories on the fictional story shortlist. They all demonstrated both great story-telling abilities and the willingness to escape our human-centric viewpoint and imagine what life might look like from the point of view of animals," he said.
"This leap of imagination is vital in creating a kinder and more caring world for animals."
Inspired by his love of dogs and cats, Cruze has his sights set on publishing more stories and he thought this would be a good place to start.
Currently he is working on a story called Danger Woods, a story of friendship and teamwork to overcome a tricky situation.
Now he gets to share his love for animals and his winning story with his classmates when they get a virtual barn tour of an RSPCA, where they get to see all the animals and learn more about what the RSPCA does to help abandoned or hurt animals.