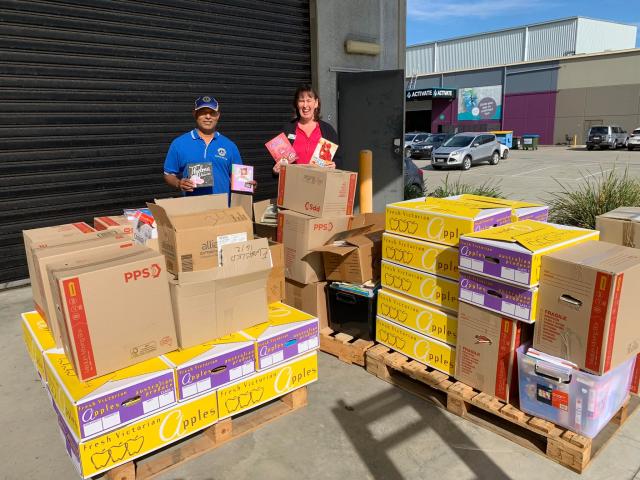 By Parker McKenzie
After trialling book donations at Officeworks stores around Victoria — including Ferntree Gully — charity 123Read2Me has shipped their first pallets of children's books to flood-affected communities.
123Read2Me founder Melinda Shelley said the amount of books donated has exceeded both her own and Officeworks' expectations.
"In the three weeks, we've had 7,700 books donated through the Officeworks stores," she said.
"It's very exciting to have this happen and now puts a bit of pressure on us to find a permanent warehouse."
The charity supplies second-hand books to underprivileged children around Australia, with its current donation drive focusing on those affected by the floods in Lismore. Camerons Transport, a local business that has donated their time and expertise to the charity, will freight the books to Lismore.
Ms Shelley said finding a permanent home for the charity remains their biggest priority.
"Officeworks is talking about looking at doing some fundraising for us, we've got to be patient, hold and keep moving forward," she said.
"When you are struggling to put food on the table, children's books are a luxury. There are a lot of books sitting in people's cupboards because their kids have grown out of them and we want them donated to us."
Officeworks is accepting bulk donations of books, with some people making charity drives at schools and workplaces before dropping them off at their local store. Other donation boxes are located at the Children's House of Early Learning in Boronia and Bendigo Community Bank in Ferntree Gully.
Ms Shelley said once the current donation drive is finished and permanent warehousing space is found, the charity will look to expand the program beyond Australia.
"We're looking into Tonga with the recent volcano and through our partnership with Lions club, we're looking at helping rebuild some of their school libraries," she said.
"We have a lot of requests from overseas countries in Africa, Thailand and the Philippines. At the moment, we have to say no to them just because our priorities are Australian kids.
"As we grow and get stronger and increase our reach, we can roll out across the across the globe, really it's the same problem in every country and it's the same solution."
17 Officeworks locations are currently accepting books in their donation boxes. For more information on where to donate or how to volunteer visit 123read2me.org.au.