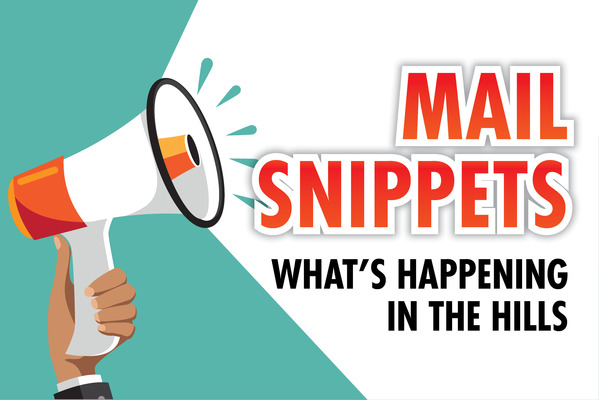 PAVE/Woorilla Poetry Prize
An awards ceremony for the PAVE/ Woorilla Poetry Prize will take place at 2pm on Sunday 25 August at the Gemco Theatre, Kilvington Drive, Emerald. This is an event not just for poetry lovers, but for everyone who enjoys not only the best poetry from across the country, but also music, song and spoken word performance. The Cardinia Mayor Graeme Moore will present prizes and certificates to winners and those commended. Tthere will be refreshments and a raffle to be won. Entry is free.
Planning in Emerald
Concerns have been raised about the type and nature of buildings that have and could be approved for Emerald. Two planning officers from the Shire of Cardinia, Peter Benezac and Debbie Tyson, will attend the next meeting of the Emerald Village Association on Tuesday 27 August at 7.30pm at the RSL. All are welcome.
Cooking classes
Olinda Community House is offering vegan Mediterranean and Indian cooking classes. The Mediterranean diet includes olive oil, garlic, lemon and lots of herbs. This class will run on Friday 6 August from 7pm to 9pm and costs $55 plus $15 for ingredients. Attendees can learn how to make dough and roti, cream chicken and rajma (kidney bean curry) at the Indian class. Call Christine on 9751 1264.
Upwey country music club
The Upwey Country Music Club is presenting its regular walk-up open mic concert on Sunday 1 September at the Guides Hall in Underwood Road, Ferntree Gully, from 12.15pm to 5pm. Artists perform songs in the country, bluegrass and folk genres. New singers, musicians, and bands are always welcome. There's a $7 entrance fee ($5 for members) and the club runs regular concerts on the first Sunday of each month. Inquiries: Graham 5964 8298.
Trees and weeds swap
Cardinia Shire Council and the Friends of Emerald Lake Park are hosting a Trees for Weeds Swap at Emerald Library on Saturday 7 September, from 10am to 2pm. Cardinia Shire residents can trade a bag of weeds for an indigenous plant at no cost. Experts can help to identify weed species and share ways to control weeds. Visit www.cardinia.vic.gov.au/events/event/814/trees_for_weeds_swap_event for more information.