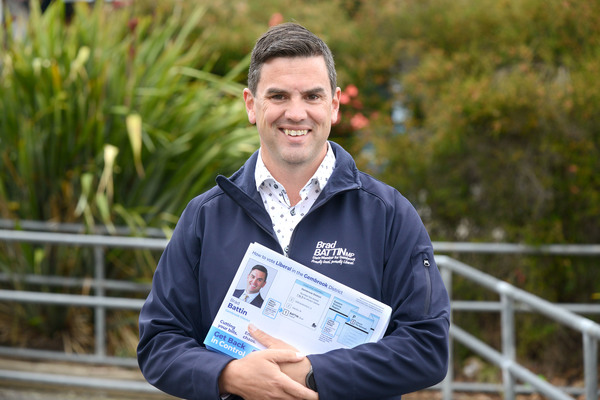 By Derek Schlennstedt
Gembrook MP Brad Battin has survived Labor's state election onslaught, holding a 0.8 per cent margin over first-time candidate Michael Galea.
The seat, which was labelled a Liberal stronghold by analysts, was brought down to the wire and is now considered a marginal seat – with a 0.8% (693 vote) margin.
With just three candidates vying for the electorate, Mr Battin garnered more than 50 per cent of first preference votes with Mr Galea close behind on 49 per cent.
Greens' Amy Gregorovich attracted 9.8 per cent of the primary vote.
Mr Battin said he looked forward to representing the Gembrook electorate on important topics.
"I am proud to be given the privilege to represent the communities of the Gembrook electorate for the next four years," Mr Battin said.
"Thank you to Michael Galea – Labor for Gembrook and Amy Gregorovich – Greens for Gembrook, who were both great to campaign beside.
"We had the cleanest campaign I have ever had the pleasure to be involved in … I wish you both all the best and thank you for putting your hand up for public life and your community.
"To my Volunteers, staff, friends and family – it was not easy, nor should it be, but we have succeeded and have a mountain to climb.
"I am ready for the challenges and my commitment will not waive."
First-time candidate, Michael Galea told the 'Mail' that it was a surprising result and one that he was thrilled with.
"I'd like to congratulate Brad Battin on his victory and wish him all the best as he enters his third term representing the Gembrook district … it's been an absolute pleasure getting to know both he and Amy during this campaign," Mr Galea said.
"The final result was much closer than many expected, and I'm thrilled to say that we've made Gembrook a marginal seat once again, on a 0.8% (693 votes) margin.
"It has been such an honour to stand to represent my community in this campaign, truly the best part of it has been meeting with and getting to talk with other locals and community groups."