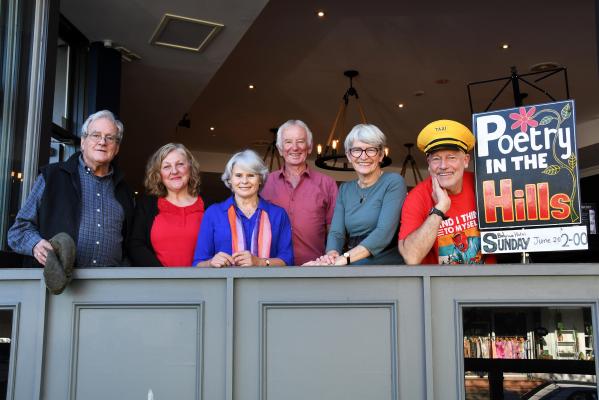 By Taylah Eastwell
After a year of not being able to meet, Hills poets are relieved to be back together expressing themselves through the written word.
Poetry in the Hills convener Fotoula Reynolds said she took over as convenor at the start of 2020 and was disheartened to not be able to run sessions due to Covid-19 lockdowns and restrictions.
"Poetry in the Hills has been running for a long time. There are just some amazing people that live among us that really have something to say through poetry, that's why I took over as I really did not want the group to fold," Ms Reynolds said.
Ms Reynolds said Poetry in the Hills have held two successful sessions this year, with The Belgrave Hotel kindly offering the group space in the bistro on a Sunday afternoon once every two months.
"It felt amazing to be able to meet again. From my perspective, it just gave me such joy to be able to continue to give people a platform to share their stuff. Thank goodness for The Belgrave Hotel, they've given us from 2-5pm bi-monthly so we don't interrupt lunch or dinner and locals are slowing starting to hear about it and come down," she said.
Ms Reynolds said since moving to the Hills her love for poetry has grown.
"I was writing some poetry before hand but since moving here I have published three collections. I've grown creatively since being in the Hills, everything you hear about living up here is true," she said.
The bi-monthly poetry circles typically attract between 15-20 people, some just there to listen in, but more attendees are always welcome.
"Everyone comes from diverse backgrounds and are of all ages. It is just such a pleasurable thing to do. It's still growing and that is my aim, to put it out there that it is not an old fashioned thing to do anymore. I don't want people to think it's just what a certain age group does, I think younger people know now that poetry is for all ages and is currently huge all around Melbourne," Ms Reynolds said.
"Our outlet is freedom of expression and people enjoy finding that comfortable place where they normally wouldn't get up and address an audience but if they've got something they want to read they just come out and do it and it is just so beautiful," she said.
If anyone is interested in attending a free Poetry in the Hills session, the next sessions are 20 June and 15 August in The Belgrave Hotel bistro from 2-5pm.