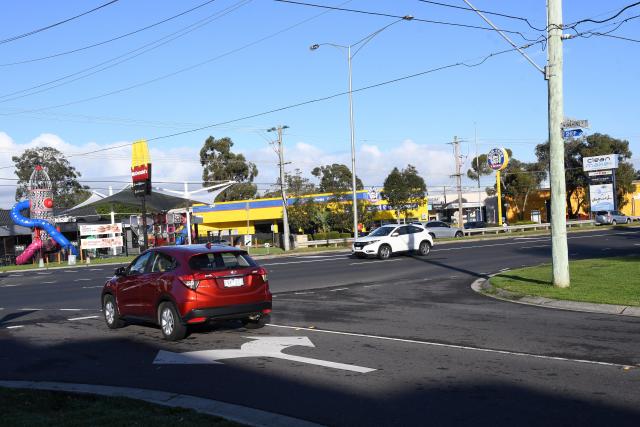 By Parker McKenzie
The signalisation and upgrade of a busy intersection at Burwood Highway, McMahons Road and Clyde Street in Ferntree Gully will set the Victorian State Government back $30 million in a bid to improve road safety.
While funding was allocated in the 2022/23 State Government budget through the Metropolitan Road Upgrades Program as one of eight high priority road upgrades, it was announced on 10 April it is expected planning and design will begin in 2022.
Minister for Roads and Road Safety Ben Carroll met with Bayswater MP Jackson Taylor at the intersection to officially announce the project.
"Credit to Jackson, he's delivered $30 million literally in ink in the Budget papers to finally get the Burwood highway, McMahon's road made safer, not only for commuters to get home safer, but also to for pedestrians with pedestrian operated signals," Mr Carroll said.
"We haven't promised it, we haven't just talked about it, we've actually got it in our budget papers as a financial commitment to get on and do it, and it's actually starting this year."
Over the last five years, four crashes with one serious injury at the intersection have been recorded.
Mr Taylor said the intersection has been a "promise that has kept on promising for many years."
"To now say that we will make this intersection safer, that we will make people get home, get people home safer and sooner, fix this intersection once and for all, it is a massive win," he said.
"One of the most important jobs I have is making sure I work with my community and be their voice and state government to deliver better roads, better public transport, better hospitals, better schools, and that work never stops each and every single day."
The Liberal opposition announced on March 18 2022 an upgrade to the intersection would be a priority if they were elected to government in the November Victorian State election.
Mr Carroll said their announcement didn't influence the decision to fund the upgrade in this year's budget.
"The opposition should have actually not made a promise, when they are in government they should have delivered it and they haven't." he said.
The Liberal Party was last formed government in Victoria from 2010 to 2014.
Knox City Council welcomed the announcement of new traffic lights at the intersection. Mayor Susan Laukens said Traffic lights will improve access to nearby residential and industrial estates and improve pedestrian access.
"We've been advocating the Victorian Government to address safety concerns at this location, and I'm very pleased that the government has recognised the need to upgrade the intersection," she said.
"All levels of government play a role in ensuring our community thrives. In the lead up to federal and state elections this year I've been meeting with our local state and federal Members of Parliament and candidates to ensure our community has an elevated voice."
Knox City Council said it is advocating for better public transport options in the future, including an extension of the Route 75 tram from Vermont South to Upper Ferntree Gully station.