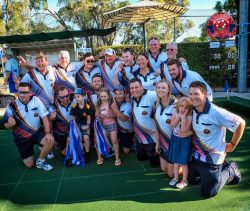 LILYDALE BOWLS
The Division 1 bowlers from the Lilydale Bowling Club put in an incredible performance over the weekend of 11-12 March.
They played Bundoora at Bundoora in the Quarter Sectional Finals and won by two points, before fronting up again on Sunday to play Whittlesea at Ivanhoe.
Whittlesea had won every game except one in the 18-game season of pennant, and went into the finals as favourites, and Lilydale came in as the underdogs.
However, in an amazing display of skill and tenacity, with many dedicated followers to cheer them on, Lilydale defeated them outright.
The team has put in the hard yards and worked for two years now with a coach and assistant coach to make this huge improvement in performance.
It culminated in a Divisional semi-final victory on Saturday 18 March against Ferntree Gully, played at Vermont South.
After the win, they automatically go into Premier League and play a last Divisional finals game against the winner of the other semi-final between Cheltenham and Deer Park – to take our the Divisional White Flag as outright winners for the season.
It has been a long time between flags, so a very exciting time for the club.